Kazimierz Przełomski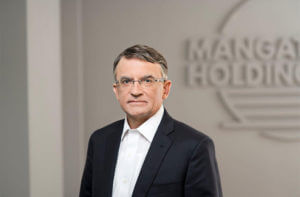 Vice President of the Board
Chief Financial Officer
Education:
Kazimierz Przełomski is a graduate of the University of London, where he obtained a master's degree in economics and a graduate of postgraduate studies (specialization in development economics) at the University of North London. He completed numerous domestic and foreign trainings, among others in the field of project financing, financial management, financial accounting (IFRS), strategic management, introduction and operation of a company on the Stock Exchange.
Professional experience:
In 1990, Kazimierz Przełomski started working at KPMG London in the strategic services department. From 1992 to the beginning of 2000, he worked in the London branch of the European Bank for Reconstruction and Development (EBRD), specializing in financing and implementing infrastructure projects. Projects implemented by the EBRD mainly covered Poland, Russia, Kazakhstan, Belarus, as well as the Baltic States, Georgia and Ukraine.
From 2000, Kazimierz Przełomski worked in Poland as a financial director for stock-listed companies: Stalexport S.A. (2000-2001) as a Member of the Board and Financial Director, Ciech S.A. (2002-2008) as Financial Director and then a Member of the Management Board, Selena FM S.A. (2009-2015) as the Vice President of the Management Board and Financial Director. As the Financial Director, he was responsible for creating financial strategies and day-to-day financial management of companies and capital groups. He undertook numerous projects aimed at increasing the company's value, among others preparation and carrying out of the IPO process at Ciech S.A. and implementation of the acquisition and integration programs of newly acquired companies. In the Selena Group, he participated in the implementation of the Group's international development strategy, in the process of acquiring new entities, entering new markets and product development.
Kazimierz Przełomski has experience in heavy industry – steel, mining and chemical industry, railway, road and port infrastructure, building materials chemistry, automotive parts industry, investment banking, strategic and transaction consulting. Kazimierz Przełomski joined the MANGATA Group as the Financial Director from July 1, 2015.
Kazimierz Przełomski does not conduct any competitive activity in relation to MANGATA HOLDING S.A. as a partner in a civil law partnership, partnership or as a member of a governing body of a corporation, he does not participate in any other competitive legal person as a member of its governing body, and is not entered in the Register of Insolvent Debtors kept pursuant to the Act on the National Court Register.